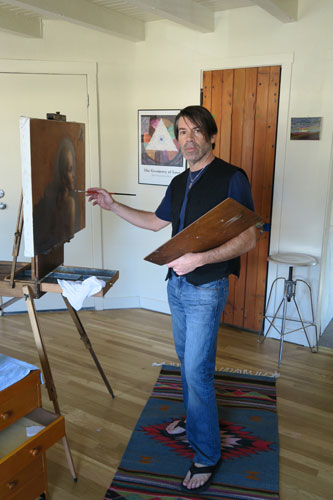 You are invited to admire the outstanding intricacy and color of Mr. Beck's duplication of light and shadow. John Beck was born in 1968 and has traveled all over the United States and Europe exploring painting genres with other great artists. He currently lives and works in Taos, New Mexico.
John Beck is a world class artist who studied under some of the worlds most acclaimed artists in New York and Florence, Italy. He has exhibited in New York, Washington DC, Houston, Maui, Salt Lake City, and now Taos. His award winning work has been displayed in
museum exhibitions
nationally and is shown in private and public collections across the country. Mr. Beck has worked in the
Atelier of Jacob Collins
, one of the most respected and famous portrait artists in New York. He has also worked with Nelson Shanks who is one of the worlds most recognized portrait artists at the world renowned
Art Students League in downtown Manhattan
, and then with Daniel Graves at the highly acclaimed
Florence Academy of Art in Florence, Italy
.
The exceptional quality and beauty in his paintings is remarkable. John Beck has been dubbed
"The Painter of True Beauty."
When painting for his clientele, each piece is carefully created for the individual customizing every aspect of the work to represent what each person holds dear in his or her life.
The latest
paintings
are an expression of the culmination of work from many years of experience. Tapping into the wide variety and rich history that the modern artistic movement has become. Mr. Beck has created modern realism that brings it's vision into the 21st century. The artist's intentions to create great works that carry tradition, skill, and contemporary expression. We hope you enjoy the work.
ARTIST STATEMENT
There are many ways that artistic vision has found voice in the modern world, we as artists find ways to reflect the world that we live in. It is our way of expressing what makes a contemporary vision. My own experience has shaped work that brings together elements of Classical Realism,
Contemporary Realism
,
Abstract Painting
, Impressionism, and Pop Art. This is a body of work that opens a new window into modern realism with very strong pallet work and traditional techniques. I am exploring the fundamental themes or "threads" of our time, culture, and humanity by using every day objects from our 21st century world with contemporary vision.
What the viewer observes is form and color transposition that helps the viewer to rest in an emotional response. We can find one measure for great work, it is that the art becomes an ever revealing expression that we return to time and again to appreciate and enjoy our homes and our lives.